ChinaNext Foundation is a UK-registered charity formed in 2011 by a group of finance professionals and academics. We help the growth of young NGO leaders and social entrepreneurs in China, through UK-based training, exchange and other cultural activities.
Our philanthropic approach is reflective of our background: instead of using direct donations, we prefer communicating and facilitating the development of young leaders (NextLeaders). We believe that the growth of those social entrepreneurs and NGO leaders is the best and most effective way of growing civil society in China. We are agnostic of charitable causes; and have supported a wide range range of areas. They range from equal education opportunities for rural migrant children to supporting the visually-impaired, to citizen participation at the local levels.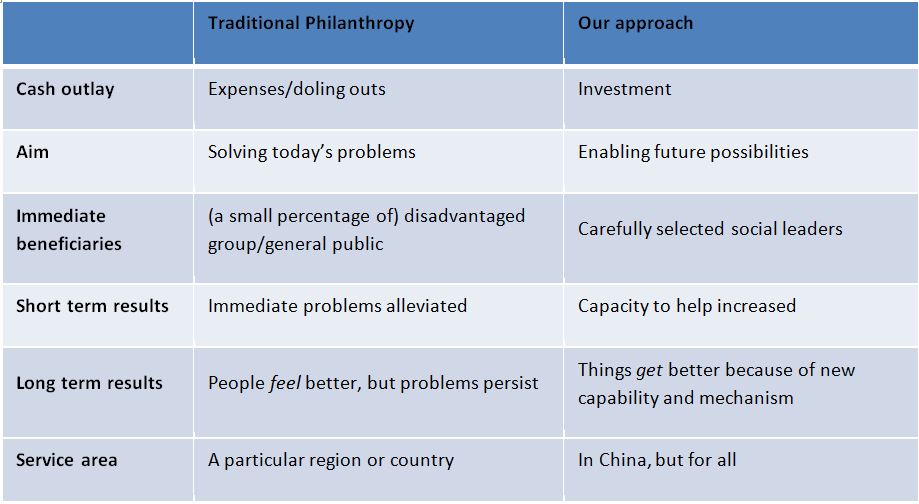 This table summarises what we can do differently from most "traditional" charities.
In short, we hope by increasing the capability and skill base of the individual NGO leaders in China, we not only make their efforts more effective in the present day but also more sustainable, innovative and inspiring for the future.

Not just for China, but for the rest of the world as well.

---
Our Story
You can still view the historical page of our Chairman running the London Marathon to raise funds for us. This is CNF's first-ever fundraising activity: https://www.justgiving.com/fundraising/leoliao
The idea of the ChinaNext Foundation was conceived by a small group of working professionals in London between late 2011 and early 2012. Although we were comfortably living middle-class lives in an advanced economic status, we were nonetheless deeply touched by several shocking news events in China. We were appalled by Bo Xilai's then leftist populist policies which did not so much as even pretend to be law-abiding, and we were kept awake at night by the death of Yueyue, a two-year-old Chinese girl who was run over by two vehicles and ignored by at least 18 passers-by. (Wikipedia Link: The death of Yueyue. Note: the image may be troubling to many)
We strongly felt that something had gone seriously wrong in China and it was up to us, each individual, to do something about it. Emotions aside, as finance professionals and academics, we also knew that China's single-minded, export-led economic development model was coming to an end. And the next chapter, a far more exciting and far-reaching phase of social development was on the verge of beginning. This was the screaming opportunity for us to make a difference.
Through both personal experiences and rational analyses, we soon realized the core problem of Chinese society: there simply is no civil society to speak of right now. Chinese rule, throughout history, has always been authoritarian, if not totalitarian – take the empire and its sprawling network of bureaucrats, for example. Without safeguards such as guilds, merchants, boroughs, or societies lying in-between, it is every man for him or herself. All traces of independent citizen organizations were eliminated during the Communist and Cultural Revolutions, and the current structure of the Chinese government has only exacerbated the problem. If the government breaks down or becomes even more corrupt, individuals simply would not have the infrastructure, will, or skills to moderate it. Yueyue is just one of such tragedies to stem from this blatant civil inefficiency; unfortunately, there are many more.
But just how can one help to build a society?

In the months that followed, we worked with several hypotheses for creating a charitable foundation to advance what we would later know as "civil society" in China. This is a daunting task--we are buckling the thousand-year tradition in the world's most populous country--and at the end, we came to the conclusion that we have to create something other than the conventional understanding of charity. China is so big and the problems so numerous that it would be wrong if we tackled just one of them. It would be better to concentrate on our skills in our own professional domain as the first and foremost financial allocators and academics, using the skills we know well to the advantage of an ailing China.
Our hearts and our minds combined

The foundation you see today is a joint result of both our hearts and our minds.
Our finance professionals conceived the NextFellow program: the "market" of civil society is so small that it doesn't make sense to make any "investments" to an organization; instead, we have to identify and train the people.
The NextMinds program was developed by our academics: at the core of the equation lies the need to redefine the word 'society', overturning China's traditional understanding of 'society as a negative, chaotic term and advocating a concept that many are still unfamiliar with – 'society' as a collaborative, self-organizing and empowered group of citizens.
The founders reached this conclusion and, as we sat together on July 1st, 2012, we promulgated the constitution of a foundation that promotes these two key strands.
The ChinaNext Foundation was born.